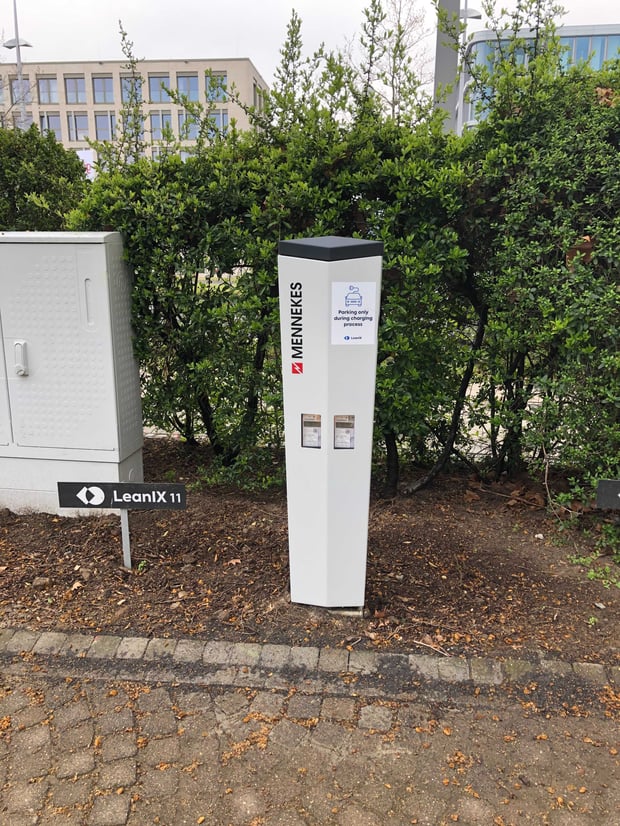 As a fast-growing company, we firmly believe we must take immediate actions to create a positive impact on our environment. That is why we founded GreenIX. We are a small group of dedicated employees, spanning different departments, from engineering to marketing, and different countries. We are united by a common goal and the will to tackle one of the most pressing issues of our time: climate change.
A significant amount of CO2 is still emitted by the transportation sector. While other sectors in Europe have cut CO2, the transportation sector remains stable or is even growing. As we find our bearings in the aftermath of a pandemic, and people return to their day-to-day activities, the threat to our climate remains and continues to rise. That is unless we take responsibility and work together to actively achieve a state of carbon neutrality. LeanIX has taken steps to reduce our carbon footprint by providing every employee in Germany with a free public transport ticket and bike leasing. In the US employees are offered reimbursement on public transportation.
Additionally, the campus on which we work provides a free shuttle service from various locations across Boston as well as an electric charging station. In Germany, LeanIX has taken measures to assist its employees with electric cars by installing an e-charging station. This was installed by a local public utility company (Stadtwerke Bonn) and now stands in front of the company headquarters in Bonn, Germany. In this way, we contribute to a good infrastructure for electro-mobility because after all, what good is the best e-car without a suitable charging option? Not only do we hope to foster a new mobility behavior, but as a software company innovating in a world of continuous transformation, we also strive to improve our environment and reduce our carbon footprint.
The charging station at our headquarter in Bonn has already inspired some employees to buy an electric car or look closer into buying one in the future.
Below our colleague Dirk J. a senior sales engineer at LeanIX gives us an insight into his decision of buying a hybrid car as well as his first experience with our new charging station.
Starting with e-mobility: Office charging and elsewhere
The beginning
When starting at LeanIX I had to think about a new car. Before I had company cars or was using public transportation only. After doing some research I decided that I want to have a car which is driving as green as possible, but on the other hand, I did not want to lose any comfort. Having a child means you need some extra space when traveling by car.
So many options to choose from: pure Electric Vehicle (EV), Plugin Hybrid Electric Vehicle (PHEV), Mild Hybrid, Full Hybrid or classic gas engine. New car, used car. Different charging standards and speed. Just to give you some impression what you have to deal with: ChaDeMo, CCS, Mennekes, Typ1, Typ2, Tesla Supercharger, Wallbox, Adapter for each and everything, …
Choosing a coffee at Starbucks is easier!
Last but not least while investigating I was infected by the typical German "Reichweitenangst", which is a special mutation of the "German Angst". This is the fear not to find a charging station when you need it.
Additionally, I had to keep budget constraints in mind. My wife is a specialist in Accounting and Controlling, so no chance to ignore the red lines.
The decision
Considering all the decision criteria mentioned above we found the best compromise for us: the Mitsubishi Outlander PHEV, which is a SUV with two electric motors and an additional gas engine. You can drive about 50 km (around 30 miles) purely electric and you have a total range of about 600 km (around 375 miles), which is ok for our needs. Of course, a SUV of about 2 tons is not REALLY environmentally friendly, but the space inside is great.
Comparing offers after this decision I found an internet offer of a brand new car with a discount of about 34 % to the list price - not the full discount range we see in the software industry, but quite good for cars ;-) . Included in this discount is also the sponsoring of German Government and Car Industry, which sums up to about 6.570 Euro for PHEV and 9.000 Euro for EV.
Good deal, so immediately signed. A lot of first times: first car ordered via Internet Portal, first car with electric engine, first car this century I bought by my own.
First learnings
If you remember the old song from Barclay James Harvest - Loving is easy -: I would be happy to say "Charging is easy". Unfortunately, we are living in Germany, Europe, where the Mennekes Plug is standard (Typ2, CCS), while our car has ChaDeMo (CHArge DE Move - Japanese standard). So fast charging is rare for us. Additionally, I have a Typ1 plug, which allows me to charge at any standard domestic power outlet - but it takes about 5 hours from almost empty to almost full. Fortunately, we have an Aldi Discounter Supermarket nearby offering a ChaDeMo Charge station for free, where I can charge the car in 20 min from 20% to 80%. The only issue which I underestimated: in Germany, a lot of retired people are now driving EVs and PHEVs and because there is only ONE (!) charging station, there is always a long line of E-Cars waiting to charge - with people who have plenty of time to wait for free charging. So usually I am charging at home with green energy overnight.
But - driving with an electric engine really is fun. You can see how it's recuperating (recharging) whenever you have to slow down. It is quiet. You do not have to shift gears. And even when you are out of battery power - the gas engine just generates electricity and we are still driving with electric engine.
Finally, I do not want to forget the killer feature for my 8 years old daughter: the car has digital radio (DAB+), which allows her to listen to a special german children's radio program: "Die Sendung mit der Maus zum Hören". She does not want to go with another car anymore.
(Learning for our Sales Process: different stakeholders have different priorities ;-) )
Charging at the office and on business trips
After having/enjoying the car for a while and looking for charging stations near to the Office in Bonn, I noticed that going by car to the office was not an option. All charging stations around are luxury stations: the price per kWh is double or three times the price you are paying at home.
Then a miracle happened: André announced we would get a charging station at our office at a reasonable price! So on rare occasions, I am going to the office by car (from Cologne to Bonn) I can go fully electric, charging at home with green energy and charging at the office also with green energy! I tested it twice this month because I had to carry some Roll-Ups for a Partner webinar hosted by the partner. Worked out great! Some minor challenges setting up the App and the Account, but this is described quite well on our internal Confluence page. The only issue is I am blocking one slot for almost 5 hours, even though I am charging for only 50 km. This is related to Typ2/Typ1 adapter cable I have to use (which costs btw. around 200+ € extra) and being able to charge only slowly.
Last week I had a long trip to make and could not make it fully electric, which was a new experience. But: switching between the few driving modes is seamless and does not influence the driving experience. Only thing I would do better next time: I would look for a hotel with a charging station to charge the car overnight.
Conclusion
Starting with e-mobility with a PHEV was the right choice for us. I would never go back to a regular car anymore - besides my daughter would not allow it.

Let's go for GreenIX!