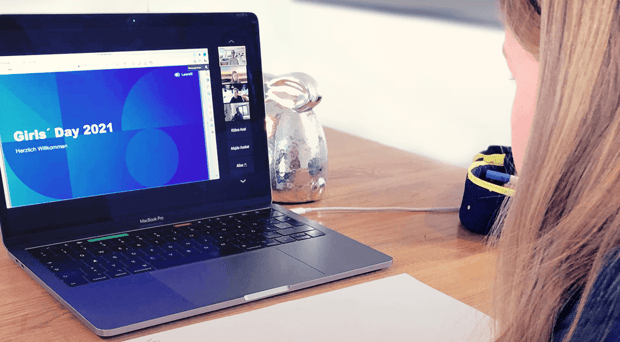 Equality and diversity are at the top of our agenda, and being a part of an event like Girls' Day means a lot to us. Far too often, roles in technology companies are associated with men. It doesn't have to be this way though. We want this Cliché to be a thing of the past, which is why we're happy to get involved in nationwide movements like this, to raise awareness among girls and young women at school.
The event took place virtually for the second year in a row, due to the ongoing Covid-19 pandemic. LeanX wanted to show the kinds of exciting activities you can pursue in the software industry, whether it's in marketing, sales or coding. We used Zoom to facilitate the meetups, which has become second nature to students after months of home-schooling.
LeanIX CEO, André Christ, welcomed the girls and young women and underlined how vital it is to have a diverse and talented workforce in IT.
He emphasized the importance of diversity, not only in companies but across the wider economy. And continued to share his experience and insights gained from managing LeanIX for more than eight years. The participants attended various sessions, in which female LeanIX employees talked about their roles in the company, and gave insights into their day-to-day business. All sessions were interactive, so the girls always had the possibility to ask questions, share their thoughts, and give feedback.Our HR Manager, Friederike Möcker, started the day by sharing insights on working in People Management, covering topics like recruiting, employee experience, and what it means to be an HR Business Partner.
Viola Vester, who also works in the HR department, provided an overview of employer branding. After that, Michelle Niedernhuber gave the participants a glimpse into the world of Product Marketing. Being a tech company, the majority of our employees work in software development, so it was important to showcase our solution. Corinna Klein, one of our Data Scientists gave the girls a short product demonstration and explained what exactly Data Science is, and why it is needed. The participants were also able to get an impression of what we do in Marketing. Here, it was particularly exciting that Justine Ronken, one of our working students, talked about her work at LeanIX. You could tell the girls liked the idea of combining work and study, and there were a lot of questions around that. To round off an exciting day, Larissa Maurer talked about her role as a Sales Representative at LeanIX and how our product is sold.
We had a lot of fun participating in Girls' Day! It's great to see how many girls are interested in technical professions and how specific some of their career ideas are. We wish all participants a successful school year and all the best for their future. We hope next year's Girls' Day will be a face-to-face event, where we can welcome yet another generation of girls interested in working in the tech sector and share our insights from LeanIX.