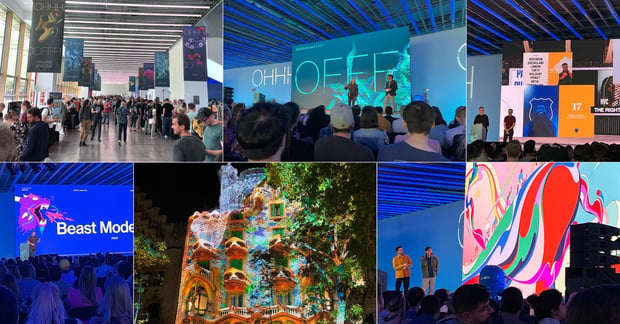 OFFF Barcelona is the largest showcase and festival of contemporary creativity, art, and digital design. Every year the conference takes place at the iconic Disseny Hub with over 4,000 in attendance and an outstanding speaker lineup including DixonBaxi, State Design, Buck, Paula Scher, and Refik Anadol.
As an entire LeanIX design team getaway, we headed to Barcelona for a weekend of inspiration and culture. An amazing chance to soak up new ideas and spend a great time together, shaking off the pandemic isolation and getting to know our latest team member that had just arrived from Rio de Janeiro – just in time to join us for the long weekend.
It was a great opportunity to reconnect, have fun, eat great food, and learn about our passion and personal goals as well as where we can take our design skills. Besides great learnings and meeting many incredibly talented designers, OFFF is one exceptional opportunity to reflect on personal growth and team achievements.
Inspiring speakers
Some of the highlights definitely were the keynote from Simon Dixon and Aporva Baxi, the founders of the London-based Brand Consultancy DixonBaxi, sharing the list that helped define their values and formative projects for MTV2, Formula 1, and Five USA. They provided us with a deeper look at the studio culture and diversity of voices and on the fundamental principles – starting at uncomfortable, designing with optimism, and the conviction that brands must reinvent or die – showing their amazing work from Eurosport, AC Milan, Hulu, KOKO and more.
Marcel Ziul creative director, animator, and founder of STATE impressed us with his honest and entertaining personality as well as great storytelling as he revealed the challenging and vulnerable process of building his own studio to create outstanding work.
Closing off with the immersive installation from Refik Anadol, transforming the famous Casa Batlló from Antonia Gaudi into one of his data sculptures was an amazing collective experience for us and the entire public audience in the city of Barcelona.
Coming back with a truckload of inspiration and new ideas, we are already getting excited to create an amazing experience for all attendees at our flagship event, LeanIX Connect Summit Europe in Berlin.