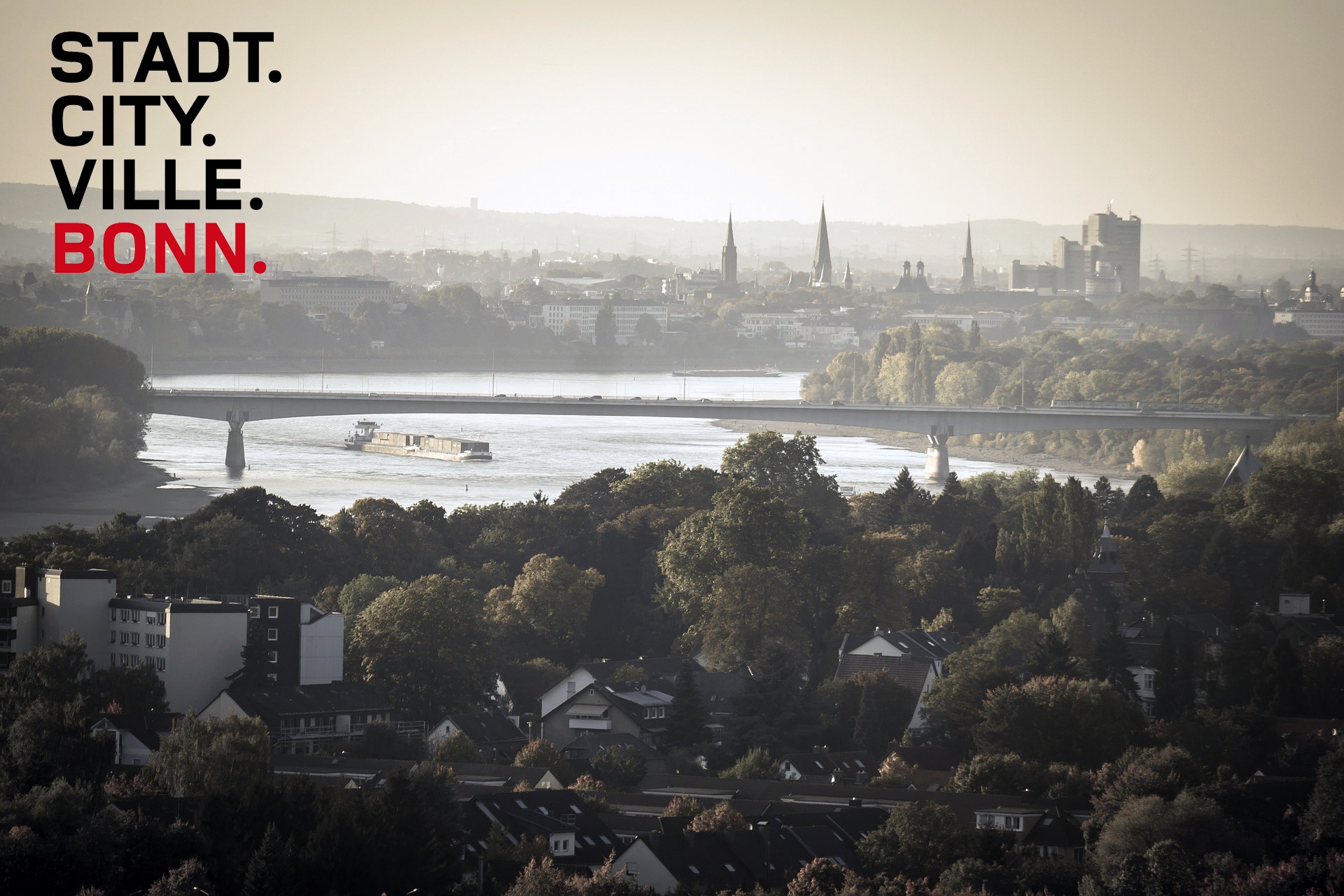 Bonn is one of the 20 largest cities in Germany and mainly known as former capital and birthplace of Ludwig van Beethoven. Our office is located in Bonn Gronau next to the beautiful Rheinaue park.
The former capital is an attractive, innovative and international location. Bonn is not only a convincing business location but also scores with a high quality of life.
More than 99% of all companies in Bonn belong to the mid-sized sector and cover approx. two thirds of the employment. Regional and international cooperation between business and science has made the city an innovative science location. Universities, universities of applied sciences, research center and technology companies make the location a leader in information and communications technology.
A major plus is the excellent infrastructure: direct connections to the A3 and A61 highways, as well as A555 and A565 highway connections, direct connection to the railway via Bonn main station or Siegburg/Bonn ICE train station, direct connections to the Cologne/Bonn, Düsseldorf and Frankfurt/Main airports.


Life and Culture in Bonn
Bonn has a long tradition of art and culture. The historic city center captivates with baroque buildings and narrow alleys from the Electorate. But the city is also attractive due to its gastronomic and extensive retail offerings.
Bonn has a large number of important museums, some of which can be found along the Museumsmeile (short walk from our office), such as Bundeskunsthalle, Kunstmuseum Bonn, Haus der Geschichte, Museum König or Deutsches Museum Bonn. Also the botanic garden is definitely worth a visit. In addition, you can visit places where well-known personalities such as Ludwig van Beethoven, August Macke, Ernst-Moritz Arndt or Robert Schumann were born or spent parts of their life.
Tourists, politicians, students etc. shape not only the international cityscape but also the gastronomy and the nightlife. In addition to student pubs and trendy get-togethers, restaurants and fine eateries can also be found throughout Bonn. Locations on the banks of the Rhine with a view of the Siebengebirge are particularly popular. A varied range of leisure activities can always be found in Bonn's surroundings: the Rhineland Nature Park (foothills of the Eifel Mountains), the Rhine Valley with the Cologne Bay, the Sieg and the Siebengebirge with the Westerwald behind it.
The Rheinaue leisure park, a 160 ha landscape area with meadows, gardens and ponds in the former government quarter, offers enough space for relaxation. At the same time, regular major events such as open-air concerts, festivals and flea markets can be visited here.
In short - Bonn is a great place to live and work.
Key Facts:
State: North Rhine-Westphalia
District: Cologne
Urban structure: 4 urban districts with a total of 51 districts
Area: 141.22 km²
Population: 327.919 (January 2018)
Height above sea level: 60 m
License plate: BN
Post codes: 53111 - 53229
Area code: 0228