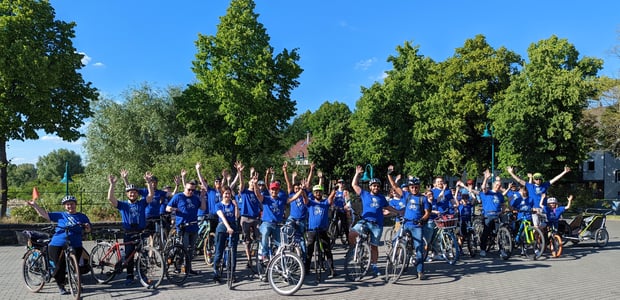 We just celebrated the UN's annual World Bicycle Day here at LeanIX. All around the world, LeanIX employees the LeanIX got together on June 2nd and 3rd for an after-work bike ride. Whether in Amsterdam, Bonn, Boston, Hyderabad, Ljubljana, Munich, or virtually, we rode between 10-15 km together.
Following the ride, we gathered in beer gardens, parks, and at our offices to enjoy some food and drinks. We also invited families and significant others to join us for the evening outside the office to connect and get to know each other better. With over 160 "global bikers," the event was a success. We all had a great time and have made this an annual tradition.
Work-Life Balance Matters
Our offices are surrounded by marvelous green spaces, rivers, and hills. We actively encourage our staff to take advantage of all this natural beauty. We also like to create opportunities for employees to connect and enjoy time with their co-workers outside of the office. When our employees are doing well, the company does well. It's a clear win-win.
World Bicycle Day is just one example of how LeanIX strives to provide a balanced work-life experience.
Another example is the way we empower employees to choose where and when they want to work. As we gradually come out of the pandemic, we have introduced a Remote-Connect hybrid approach to work whereby employees choose where work gets done. As a result, all around the world, we have colleagues working remotely around the world and many more who have opted to return to the office.
We appreciate that everyone works differently. Some may be more productive in the morning, others in the evening. Instead of restricting our employees to traditional work hours, our employees can choose for themselves when they work.
We want employees to be their best selves every day, whether at home or at work. By offering a flexible schedule and encouraging employees to participate in activities like World Bicycling Day, we hope that some of the stress associated with daily life – childcare, grocery shopping, appointments – can be relieved.