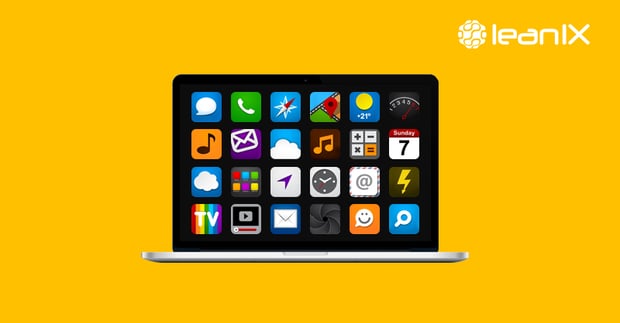 Informed business decisions fuel innovative enterprises. Organizations succeed when they make well informed, integrated business decisions across the organizational landscape. Understanding the application portfolio is more important than ever. Operating an agile application portfolio enables a rapid response to business, technology, and market changes.
What is application portfolio rationalization?
Application portfolio rationalization is the act of streamlining the existing application portfolio with an explicit goal of improving efficiency, reducing complexity, and lowering TCO through a myriad of processes.
Application rationalization can be the basis for other cost-saving endeavors, including:
Software license optimization
Application retirement
Server optimization
Project rationalization
Data storage optimization
Retiring aged and low-value applications
Eliminating redundancies
Standardizing common technology platforms.
Why does my company need application rationalization?
Around 70% of organizations do not have referenceable documentation on the current version of their application portfolio. The negative results that stem from this lack of documentation can cost a lot of money. Infosys, a global leader in technology services & consulting reports that application rationalization can lead to the cost-saving of more than US $2 million in an enterprise. Currently, 75-80% of IT budgets are spent on operating and managing applications.
Without application rationalization, organizations run the risk of:
Being unable to react in a timely manner to changing business conditions
Not making appropriate updates and changes to bug fixes
Holding on to low-value IT projects
Not being able to effectively plan, optimize, and modernize different aspects of the IT and business landscape.
Increased cost
Missing business opportunities
Why does my organization need application rationalization?
Not only is application rationalization an effective way to identify capital for reinvestment, it also supports streamlined communication between IT leaders and business personnel.
Application lifecycles vary in their length, and it is quite difficult to keep track of all of them. LeanIX research indicates that large enterprises with more than 1bn euro revenue have an average of 650 applications. The 10% largest have an average of 3400. Not all of these applications are necessarily practical or useful. In order to stay abreast of current innovative trends, provide first-class customer service, reduce cost, and spread operations globally, enterprises benefit from having a tightly integrated application landscape.
What is the solution?
Preform an application rationalization project.
Step 1 – Scoping phase
Create a strategy that involves carrying out application rationalization in several phases that focus solely on one vertical section of business functionality. For example, an organization can choose to rationalize all applications within HR with the objective of standardizing processes and consolidation redundant applications. Or, an organization can choose to rationalize all of the applications within another business domain first, such as Accounting, to select a global standard application for supporting offices all around the world.
It is imperative to involve business and IT leaders in the planning process to prioritize, scope, and support ongoing rationalization projects. With the added help of other business points of view, the full picture will always be aligned.
Step 2 – Application Inventory
In this phase, it is important to capture key information about current IT landscape and gain insights about applications and their business relevancy to improve business support and plan the roadmap for the future state.
In general, categorizing applications by business capabilities is much better suited than categorizing by processes. Business capabilities show what a business is currently doing and what it should be done in order to meet current and future goals.
Step 3 – Assessment and classification phase
The level of evaluation done depends on the needs of the organization. At LeanIX, we use the TIME strategy. Load your applications in the LeanIX dashboard and tag applications with the labels: "Tolerate," "Invest," "Migrate," and "Eliminate" (TIME) on their internal application Fact Sheets. Based on this information, the EA team can generate live reports detailing information about which applications are widely used, which applications are unnecessary duplicates, and which applications will be selected as the global standard application for a specific capability.
At the end of this phase, your organization should know which applications have a high business value, and which are carrying dead weight on the IT landscape.
Step 4 – Definition of future state
A good application rationalization system will prompt you to prioritize each transformation recommendation based on resource availability, budget, business impact, dependencies, and other factors relevant to your organizations.
Step 5 – Implementation
Business leaders, IT leaders, and EAs should gather to review the recommended actions of each application and formulate a best-fit roadmap for implementation going forward. Involving various business leaders while creating a supporting architecture will help to establish transparency and will properly align business to IT.
Step 6 – Continual application governance
After optimizing the portfolio, it is imperative to continually maintain the landscape. Onetime application rationalization endeavors are counterintuitive and they lack the long-term value that continual application rationalization offers. Application rationalization improves the overall effectiveness of IT and ensures that the IT landscape is actively aligning to business goals and objectives.
The continual revisitation of the application portfolio is just as important as the previous steps. It's important to track the operational quality of your applications to help determine the most appropriate adjustments going forward. This new landscape provides the backdrop to assess the necessity of new applications before they are purchased. A clean organized IT landscape prevents wasteful purchases.