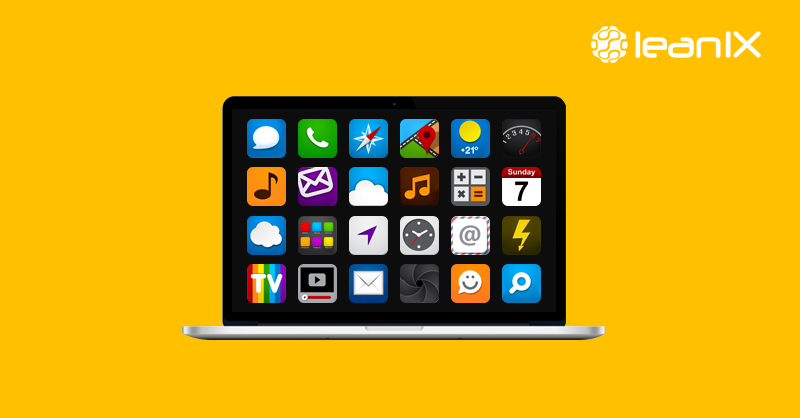 This in-depth blog post will cover business capabilities, their attributes, use cases, and tips on how to use them in your daily Enterprise Architecture practice.
What are Business Capabilities?
A capability model describes the complete set of capabilities an organization requires to execute its business model or fulfill its mission. Another way to think of business capability modeling is to think about capabilities as organizational level skills embedded in people, process, and/or technology. Business Capabilities serve as a placeholder to reflect the primary dimension of the needs of the business.
Gartner defines business capability modeling more abstractly, as "a technique for the representation of an organization's business anchor model, independent of the organization's structure, processes, people or domains."
Why is a view into Business Capabilities important?
Capabilities link strategy to action through a common language that both the business and IT can understand. Business capabilities help to abstract from the organization's fast moving parts. From business capability maps, companies may:
Uncover redundant technologies and processes
Define holes in capability support
Create a common link between executive intent and operational activities
Provide a foundation for assessment and prioritization
Most modern companies might have goals around ensuring customer satisfaction. "Manage customer satisfaction" is a directive that tells us what we need to do, but doesn't specify how to do it. Is this the role of the Community Manager? What processes do we have to support this directive? There could be a Customer Success department process for reaching out to current customers and taking surveys. Or it could be in the hands of the Head of Partnerships to actively manage customer risk. Or this process could be outsourced to customer success robots.
Each scenario requires different people, processes, and technology to achieve the 'Manage customer satisfaction' goal. Many times unorganized companies will have both the Community Manager and Customer Success department focusing on this task, which wastes both money, time, and confuses the customer.
On the other hand, if a company creates a business capability map, they will be able to directly see which people, processes, and technology are supporting the 'Manage customer satisfaction' goal.
"Manage customer satisfaction" comprises the people (Customer Success Representative), the process (e.g., identify the customer, manage customer profile, manage customer hierarchy, etc.) and technology (e.g., surveys, online assessment center, digital personnel file) into one capability of the organization.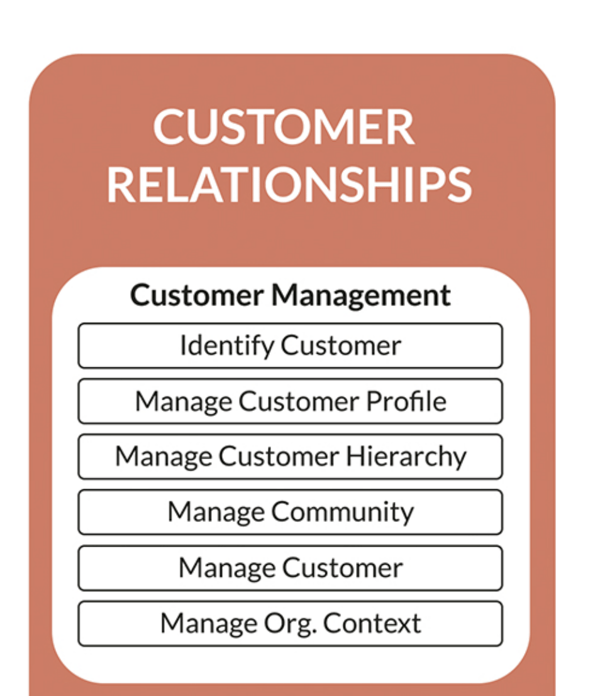 Figure 1: An example of a business capability in the customer relationships function.
Capability Attributes:
Each capability is unique
A capability is a crucial element of the organization and as such is clearly different from other capabilities. A capability might be applied throughout the organization and can be applied in different ways to bring about different outcomes.
Capabilities are steady

Well-defined capabilities seldom change. The business capabilities provide a much more stable view of organizations than do projects, processes, applications, or even strategies. Capabilities only change when there is a significant shift in the underlying business model or mission which might occur through a business transformation initiative or in conjunction with a new merger or acquisition.
For example: Amazon started as an online book retailer and developed into one of the world's largest marketplaces, hosts over 4,000 titles on Amazon Prime, and offers top-tier cloud storage. Still, capabilities are constant enough to build a plan around them. This stability is a major part of the appeal of business capabilities.
Capabilities are abstracted from the organizational model
Capability models are not just a simple restatement of the enterprise's organizational model. They are organizationally neutral which means that changes in the organizational structure don't require a change in the capability model. In simple organizations, the capability model may indeed look similar to the corporate organizational structure; however, in more-complex organizations capabilities both common to and unique to organizational units are found.
Business Capability Use Cases
1. Merger Management
A KPMG study indicates that 83% of merger deals did not boost shareholder returns. Mismanagement of risk, price, strategy, cultures, or management capacity are among the many contributing factors. A great way for two established organizations to completely integrate, is to fully map out the business capabilities for both organizations.
Example: Global manufacturing company Haworth acquired a portfolio of brands in Europe and Asia. During their merger process, Haworth realized that their business projects frequently suffered from a lack of transparency. Due to siloed data, collecting appropriate information required strenuous efforts, which in turn negatively impacted project timelines and budgets.
Improper consolidation after acquiring the portfolio had negative effects on daily operations as well as on external stakeholders. After a decade of global acquisitions, Haworth needed to define a business capability map to see which capabilities were sufficiently covered, and which were unsupported.
Haworth began with aligning company-wide business capabilities for the finance function. As a result, the different projects had easy access to interactive reports that easily answered questions like: Which applications are used in Italy for billing? Which external partners are connected to said application? Which HR applications are being used in Boston? How many instances are being used of the same HR application?
Haworth completed their business capability maps for each function, including Marketing & Sales, Customer Relationships, Production, Product & Service Development, Design, etc. After completion of the project, various teams inside of Haworth were able to create clear roadmaps to transform their current IT landscape to the desired target state.

2. IT Risk Management
As technology continues to push industry transformation, traditional business models are gradually being replaced by technology-enabled models, and while this improves speed and operational efficiency, it also exposes an organization to increased risk impact levels. Paying attention to technology risk is key. Organizations may conduct a strategic risk assessment by linking business capabilities to applications to technology components. Business capabilities allow you to create a risk dependency map, which makes it possible to answer the following questions:
Do my applications meet the regulatory standards?
Which applications support critical business activities?
Which IT components would fail if a certain application fails?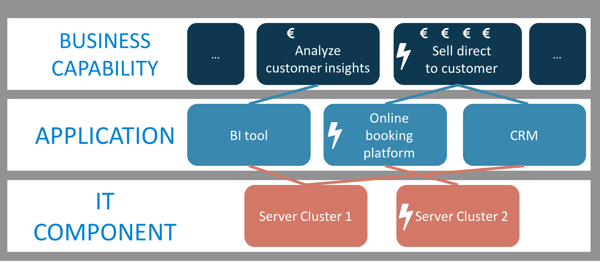 Figure 2: Example of a risk dependency map: Tracing of failure of an IT component to the affected business capabilities and indicating potential financial damage.
3. Roadmap Planning and Innovation Management
Taking a clear stocktake of applications on hand clearly uncovers areas to improve. In this digital climate, organizations must optimize their processes capability by capability. Domain owners should periodically go down the list of capabilities and strategize ways to improve section by section. Using business capabilities to prepare for IoT: Gartner reports that 20.4 billion connected "Things" will be in use by 2020. IoT brings shorter times to market, provides real-time Big Data insights, enables new services and business models, and reduces cost. With all of the potential, there are also five significant challenges that face the IoT:
1. Security
With data breaches occurring almost weekly, security is a crucial issue and proves to be a significant challenge for the IoT. Poorly designed devices can expose a user's data to theft, harm their personal safety, and pose a significant risk for rights violations.
2. Privacy
The United States Federal Trade Commission has outlined a list of concerns about the security and privacy of connected and embedded devices. The FTC went on record acknowledging that IoT devices are capable of collecting, transmitting, and sharing highly sensitive information.
3. Standards and regulation
As a brand-new technology framework, the IoT world has a lack of set standards. This lack of documented standards leaves the door open for inappropriate behavior by IoT devices.
4. Integrations
Gartner research analysts claim that "through 2018, half the cost of implementing IoT solutions will be spent integrating various IoT components with each other and back-end systems. It is vital to understand integration is a crucial IoT competency."
5. Complexity
Adapting to a different IT architecture can prove to be difficult. Having an IoT roadmap will keep you from adding valueless technology to your landscape.
How Business Capability Mapping Creates Clearer Business Priorities:
A business capability map provides the basis for creating a clear business and IT alignment. Business capability maps help to define a list of priorities for application support, draw a common language between business and IT, and relate IoT requirements to existing business capabilities.
With the LeanIX business capability map, Enterprise Architects can identify the current applications supporting the IoT capabilities, detect gaps in the application support, evaluate the quality of capability support based on defined criteria, develop requirements for existing applications, and identify the need for enhancements or new applications.


How to create your own business capability model:

Figure 3: Best practices to create your own business capability maps
1. Understand the needs
First, you should review the company's strategy and goal documents, and involve the appropriate strategy owners. If there is no formal strategy defined, consider preempting a discussion with the IT and business executives for their key priorities.


2. Define the Business Capabilities
Think about which capabilities your business requires to properly operate. Shoot for 7-10 capabilities on the highest level. The two ways to approach this strategization include: Top-down: what does the company want to achieve? Bottom up: which organizations, processes, and people are already in place? Which functions do/can they support?
During this stage, resist the urge to add numerous capabilities. Stick to the core capabilities. When in doubt, aim for breadth over depth.

3. Assess Capabilities
Not all business capabilities are of equal importance. Some are more necessary in terms of value for the customer and financial impact. For example, the capability "Manage M&A strategy" would directly impact business and IT function more than "Recruit New Staff." Create a hierarchy for your business capabilities using the Business Capability Matrix.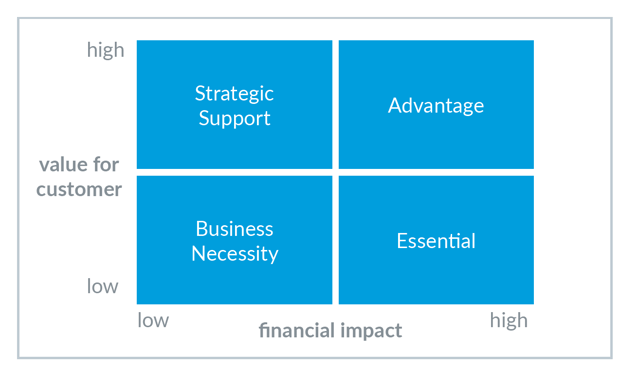 Figure 4: Business capability matrix. LeanIX representation based on Accelare Consulting, 2014, Putting Business Capabilities to work.


4. Link Capabilities to Applications
This link creates a bridge between business and IT. Link your applications to the business capability that they support. Modern Enterprise Architecture tools make this an easy task and provide best-practice visualizations. A great way to get a complete overview is to depict business capabilities as nested boxes that contain the assigned applications. See below for an example.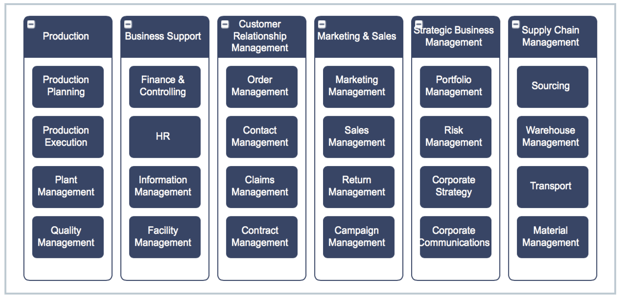 Figure 5: Example of a two-level business capability model of a multinational production company
Applying Your Business Capability Models
The business capability map should not lay stagnant in a PDF form. The goal of business capabilities is that they become a commonly used basis for discussion and planning.
Tips and tricks to integrate the usage of your business capability model:
Clearly assign responsibilities, this way everyone feels an ownership of the model
Print the business capability map out as a poster for each team
Anchor the model in your organization's processes and governance.
Refer to it, when you discuss how IT links to business.
Take the model to meetings with executives to familiarize them with the map
Use an enterprise architecture management tool to look at heat maps or application matrices in meetings
In Conclusion
Business capabilities have the potential to serve as the common language between business and IT. When properly defined, they can help to save money, decrease risk and enable growth. The reduction of redundant IT support for capabilities has a savings potential of 15 - 20%. IT risks are estimated to cost companies €590,000 per incident.
Business capabilities encapsulate what a business is doing right now and what it needs to be doing in order to meet current and future challenges. As they are fairly stable over time, they are much more tangible than business strategy and have the potential to overcome organizational silos.
Consider using business capabilities to organize your business and IT landscape.