Obscurity in the Application Portfolio Landscape
Imagine you're browsing retail stores in the mall. You have a healthy collection of business attire in various colors, leisure attire, and pajamas at home, yet somehow, you are drawn to a clothing store. A cream-colored cardigan jumps out at you. "This will go well with my burgundy corduroy pants." you think. You approach the register, eagerly pay the €130, and head home.
The exhilaration of buying a new outfit comes to an abrupt end when you realize that you already have a similarly colored cardigan. Uh oh. You actually have three shirts just like it. You slide on the burgundy pants, and the button flies to the floor. The zipper breaks. Chaos ensues. You immediately realize that instead of buying a similar shirt, you should have taken your burgundy pants to the seamstress. While sulking over a bowl of ice cream, your partner comes home and presents you with a light beige cardigan - very similar to the one you just bought. She had the same idea - it would look nice with your (defunct) burgundy pants.
When you go shopping, you don't take a full inventory list of which items are in your closet.
Unfortunately, the same thing happens when enterprises are adding new applications to their portfolio. The cream-colored cardigan could be an Accounting application. The burgundy pants that no longer fit represents the CRM. The CRM should be modernized or replaced altogether. Your partner is the remote team in Bangladesh, who didn't realize that you don't need a new Accounting application; especially not before you repair your CRM pants.
In both situations, the solution is simple:
Take a full inventory of your clothing
Decide the value of each item
Keep the great items
Update/Alter the items that you still love, but don't quite fit anymore
Eliminate/Retire the items that do not serve you anymore
Use the new view to decide what you need before any subsequent spontaneous shopping trips
Now imagine that instead of a closet full of clothes, we're talking about 3,400 applications. This is where Application Portfolio Management come into play; Taking a full inventory of one closet's worth of clothing may take a few hours at most; while taking a full inventory of the application portfolio is a daunting task. So daunting that many companies simply fail to do it. Companies rarely have a clear view of their entire IT portfolio, which leads to an unclear application inventory, unknown life cycles, and nonexistent statistical monitoring. It is nearly impossible to align the applications to the business value chain if you don't know which applications you have.
48% of CIOs believe that there are more applications in their portfolio than the business actually requires. (Capgemini)
73% of CIOs globally think 20% of applications share similar functionality and should be consolidated. (Capgemini)
57% of CIOs believe that 20% of applications should be retired or replaced. (Capgemini)
Large enterprises (> €1 billion annual revenue) have an average of 650 applications deployed. (LeanIX)
The 10% largest companies have an average of 3400 applications. (LeanIX)
Fortunately for the clothing scenario, if you amass a bunch of redundant clothing, there is no other consequence besides maybe... overspending and leaving little closet space for your partner.
On the other hand, when organizations amass a bunch of redundant software, the consequence may be detrimental to the livelihood of the business. Effective application portfolio management is critical to competitiveness. It is nearly impossible to make decisions with confidence if you don't know what's in your closet.
Making the Business Case for Application Portfolio Management
Today's rapidly evolving business environment creates many opportunities for companies - both positive and negative. When certain situations call for an application to fix an issue, there are many single-purpose applications on the landscape to address the issue quickly. Your remote worker needs a video messaging app to dial into daily meetings. A team of developers want to purchase a new container software. Your HR department wants a new Human Resource Management tool before hiring any new personnel. Easy. There are apps for all of these situations. Unfortunately, this quick and easy access to various types of systems and applications can often lead to application sprawl.
Application sprawl is the growth of an IT system to include more applications, and to use more resources overall. IT portfolios that experience application sprawl suffer from inefficiency due to poor design, lethargy, redundancies, and over exhausted resources. This could directly impede an organization's ability to stay competitive and innovative.
Complete visibility into the application landscape will help organizations manage costs, ensure alignment, and stay agile and innovative. One of the many ways Enterprise Architects can bring transparency to their organization is through Application Portfolio Management.
What is Application Portfolio Management?
Application Portfolio Management is LeanIX' proven solution to help CIOs and enterprises reduce IT costs and raise the bar on current IT performances. Application portfolio management measures the financial and functional benefits of each application in comparison to the costs of the application's maintenance and operations. Application Portfolio Management shows you how many applications your company is currently using, their business value, their supporting technologies, and their life cycles.
What are the key drivers of Enterprise Application Portfolio Management?
1. Business and IT alignment
Business and IT alignment can be better achieved when you conduct a clear stocktake of your applications and match them with their supporting business capabilities. This holistic view shows you which applications support key business capabilities, and prevents the organization from overspending on redundant applications.
2. Digital transformation readiness
Modernizing legacy applications, retiring obsolete software, and getting rid of technical debt frees up a measurable amount of IT expenditure. This money could be used to investigate current IT trends on the horizon.
3. Compliance
With impending regulations on the rise, organizations must be aware of the level of compliance in their application portfolio. During Application Portfolio Management, enterprises are prompted to analyze their portfolio landscape, facilitate transparency, and locate software that does not support compliance.
For example: Under the European Union General Data Protection Regulation (EU GDPR), your organization will need to understand how you obtain, transfer, store and handle data. If an application that you are running collects the personally identifiable information (PII) of your customers, and your IT leaders do not know where the data is stored, how to access it, or how to manipulate it, then this application would be non-compliant under the EU GDPR. Noncompliance with the EU GDPR will put your organization at grave risks of fines and penalties. Proposed penalties will reach an upper limit of €20 million or 4% or annual global turnover – whichever is higher. Application Portfolio Management endeavors will help you identify which software is facilitates compliance, and which does not.
4. Efficiency improvement
Consolidating vendors and rationalizing software licenses improves efficiency and cuts cost. A mass of licenses can carry unused, idle, and inessential applications. Once there is transparency on software licenses, EAs and CIOs will have a roadmap to consolidate vendors and eventually negotiate discounts. Gaining control of your software estate drives 5-30% savings in annual software spend and continuous license compliance.
5. Modernization and technical risk mitigation
Technical risk from outdated legacy, misaligned M&As, and unsupported licenses cost enterprises billions of dollars each year. Abacus4 estimates that between 70% and 80% of the top 10 malware detected by a company could be avoided if their technology were properly updated.
6. Cost reduction
Currently, IT spend makes up 1-5% of an enterprise's overall budget. It is possible to reduce costs by 15% by eliminating redundant applications without affecting quality and business value. A study conducted by Cast Software revealed that the average code base carries approximately US $1,055,000 of technical debt.
7. Cloud enablement
Enterprises undertaking on application portfolio management processes will be able to determine which applications are fit for cloud computing, and which applications have to lie on internal databases.
8. Redundancy reduction
70% of CIOs believe that at least one-fifth of their applications could be consolidated by eliminating redundant functionality. Applications that are seldom used, never used, or overlooked, cost organizations millions each year. Larger enterprises often have duplicate applications with intricate custom-built add-ons that mimic similar functions. Through linking applications to their business capabilities, enterprises may uncover these costly redundancies, and from there, make a plan to decommission redundant applications.
9. Business process management
Rationalizing applications will uncover gaps or data redundancies which slow down business processes. By sorting out these redundancies, companies can focus on bringing innovation to the organization and the end user.
10. Outsourcing
It is crucial to have a comprehensive overview of which application assets are beneficial, and which are carrying dead weight before moving operations. Organizations will also be able to tell which services are necessary to require before signing any agreements.
11. Project Rationalization
Enterprises usually manage a handful of complex projects simultaneously, which can muddle the IT landscape.
Through active Application Portfolio Management, teams can categorize projects in the following organizational groups:
Projects that have high business value and directly support the IT strategy,
Projects that have high business value but don't directly comply with the IT strategy and should be slightly reshaped,
Projects that comply with the IT strategy but have little business value and should be delayed,
Projects that have low business value and no IT relevance which should be abandoned.
From there, classification, it will be easy to identify opportunities where applications can be decommissioned, vendors can be consolidated, and low-value projects can be canceled.
12. Infrastructure and data center consolidation
Operating fewer applications results in less money spent on servers, cloud space, and supporting maintenance costs. Infrastructure and data center consolidation are essential components of a successful application rationalization venture.
Outside of the key drivers, there are also many benefits of application portfolio management, as listed below.
Benefits of Application Portfolio Management:
Application portfolio management is an effective way to identify capital for reinvestment.
Application rationalization can lead to the cost-saving of more than US $2 million in a single enterprise. (Infosys)
License optimization results in 30% savings on licensing costs (Gartner)
Over 20% of applications are unused and can be retired
Infrastructure costs can be reduced by 45%
At least 10% of IT project costs can be avoided by application rationalization (Oracle)
Vendor consolidation can reduce Total Cost of Ownership (TCO) by 22-28%
Currently, 75-80% of IT budgets are spent on operating and managing applications. (Science Direct)
Application Portfolio Management BEST PRACTICES with LeanIX
The Application Landscape report is a great way to show how your Applications are affecting your Business. Seven years of research and hands-on APM projects has led LeanIX to develop a best practice roadmap of application rationalization for enterprises of various sizes and in different stages.
Import a list of applications into LeanIX software.
Rate their business criticality from 'Mission critical' to 'Administrative Service.'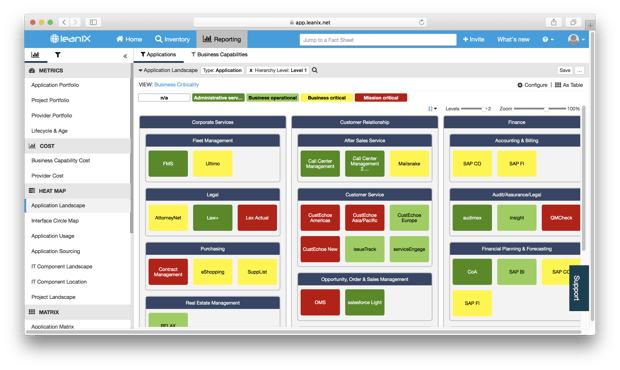 Figure 1: Applications and their business criticality in LeanIX software.
Link Applications to Business Capabilities.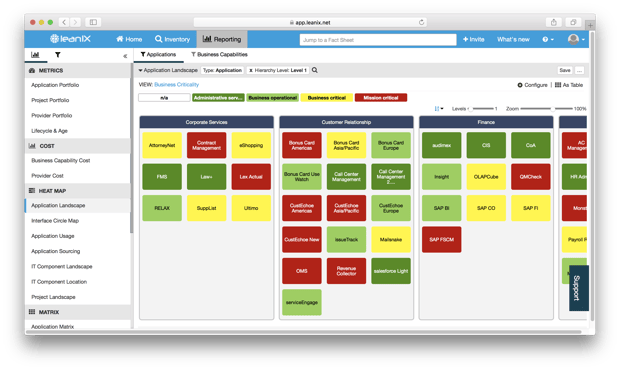 Figure 2: Business Capabilities supported by the company's current Applications
From here you see which applications support which Business Capability, and their criticality in a quick glance.
Go back to the Application Landscape and change the view to Functional Fit.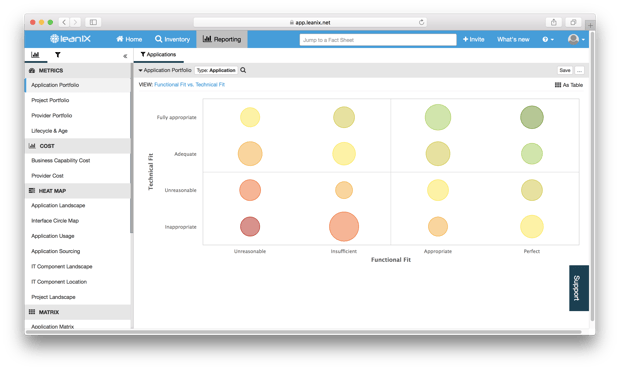 Figure 3: Applications and their functional vs. technical fit levels in LeanIX software.
The image above displays applications in relation to their functional fit vs. technical fit levels.
ENTERPRISE ARCHITECTURE Application Portfolio Management Insights through reports
Use interactive, data-driven visualizations from LeanIX to gain insights on your company's Application Portfolio. LeanIX provides stakeholders with a collaborative platform for making decisions about business architecture, IT architecture and application architecture. From this view, your CIO will have data to make strong decisions, e.g., realizing that you already have a video messaging app for your remote worker. Modernizing your current Human Resource Management application for the HR team, and so on and so forth.
In conclusion, Application Portfolio Management lowers IT cost dramatically. Uncovering redundant applications recover money for innovation, reduces the risk of an unprepared IT transformation, and enables you to easily align IT with business strategy.
Application Portfolio Management creates the environment to embark upon advancements in the digital transformation world.