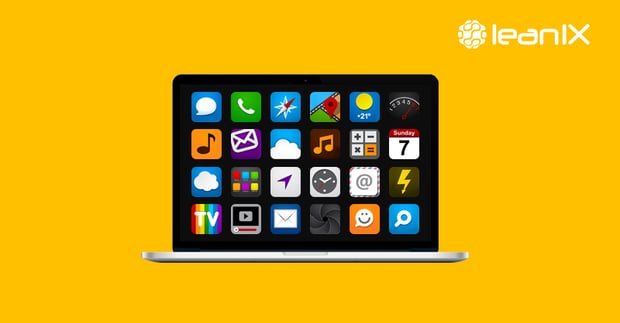 What are business capabilities? What will they do for your organization? How to make a personalized map for your organization? You'll find out in this post.
What is Business Capability Mapping?
One of the core views of Enterprise Architecture is a business capability matrix. Business capabilities are core elements that structure a company according to its activities. "Business-capability mapping," is the process of modeling what a business does to reach its objectives (its capabilities), instead of how it does it (its business processes)." – Skyscraper
A business capability is what a company needs to be able to do to execute its business strategy (e.g., enable ePayments, tailor solutions at point of sale, demonstrate product concepts with customers, combine elastic and non-elastic materials side by side, etc.)
In short, business capabilities encapsulate what a business is doing right now and what needs be done in order to meet current and future challenges.
How to Create Your Own Business Capability Map
LeanIX helps you to create the perfect business capability map for your organization. Use our dependable technique to represent your organization's business anchor model independent of the structure, processes, people or domains.
These best practices will help you map out your capabilities whether you are from the banking or insurance industry, automotive or logistics or any other industry.
Business Capabilities and Mergers & Acquisitions
During a merger, capability maps can help define activities that need to be fulfilled independently of processes and organizations. Capability maps assign applications to user groups and business capabilities even if the organizational structures and procedures of the two companies are very different from each other, which is very beneficial in organizing M&As. This overarching view of applications and their contributing business value makes it possible to assess redundancies and gaps in IT support in both dimensions - functional and usage.
Record initial state of IT Landscapes
During an M&A, recording the initial state of both IT landscapes is critical. LeanIX helps you to answer essential structural questions, including the following:
What systems of record does each company have?
Where is the master data stored for each company?
What are the locations of each supporting data center?
Use LeanIX workflows, such as the Survey Add-on, to gather all of this information and save it in the LeanIX repository. LeanIX' software serves as a strong, referenceable, accessible single repository of truth.
Assess different target application landscapes
Enterprise Architects help to plan the optimum target landscape. Should one IT landscape be absorbed? Should we cherry-pick the top-performing applications of both companies' IT landscapes? To support this decision, Enterprise Architects may use LeanIX' software to run an elaborate analysis of the functional and technical fit of each application and to propose a solution from concrete data.
LeanIX customer Helvetia, was able to reduce redundancies and realize substantial savings in the merger with Nationale Swiss. In its half-year report, Helvetia reported IT as a major contributor to these savings. The establishment of transparency was a crucial first step toward doing so. Today, the established LeanIX inventory serves as the single source of truth that strategic IT management decisions are based upon. The report on the next page shows an exemplary overview of a target portfolio.
Business Capabilities and preparing for IoT
Gartner reports that 20.4 billion connected "Things" will be in use by 2020. While the world finds space in their personal lives and homes for smart accessories, Enterprise Architects should look into how the Internet of Things (IoT) can benefit their organizations. IoT brings shorter times to market, provides real-time Big Data insights, enables new services and business models, and reduces cost.
With all of the potential, there are also five significant challenges that face the IoT:
Security
With data breaches occurring almost weekly, security is a crucial issue and proves to be a significant challenge for the IoT. Poorly designed devices can expose a user's data to theft, harm their personal safety, and pose a significant risk for rights violations.
Privacy
The United States Federal Trade Commission has outlined a list of concerns about the security and privacy of connected and embedded devices. The FTC went on record acknowledging that IoT devices are capable of collecting, transmitting, and sharing highly sensitive information.
Standards and regulations
As a brand-new technology framework, the IoT world has a lack of set standards. This lack of documented standards leaves the door open for inappropriate behavior by IoT devices.
Integrations
Gartner research analysts claim that "through 2018, half the cost of implementing IoT solutions will be spent integrating various IoT components with each other and back-end systems. It is vital to understand integration is a crucial IoT competency."
Complexity
Adapting to a different IT architecture can prove to be difficult. Having an IoT roadmap will keep you from adding valueless technology to your landscape.
How business capabilities and LeanIX can help
In this digital age, progressive companies are looking for ways to manage risk, not to avoid it altogether. Enterprise Architecture can directly contribute to a beneficial IoT roadmap by managing the risks through defining relevant business capabilities; defining the scope of retirements and new applications; ensuring the proper interoperability of applications; driving and tracking transformation progress in projects, eliminating security risks; and establishing relevant data for future business decisions.
A business capability map provides the basis for creating a clear business and IT alignment. Business capability maps help to define a list of priorities for application support, draw a common language between business and IT, and relate IoT requirements to existing business capabilities.
With the LeanIX business capability map, Enterprise Architects can identify the current applications supporting the IoT capabilities, detect gaps in the application support, evaluate the quality of capability support based on defined criteria, develop requirements for existing applications, and identify the need for enhancements or new applications.
With the help of business capabilities and Enterprise Architecture, you can:
Identify conflicts in requirements between different projects regarding the same applications,
Plan and track application transformation (phase-ins of new applications and retirements of legacy applications)
Build future scenarios for the application landscape
Evaluate technology risk for applications and business capabilities based on the underlying IT components
Identify the IT components to be replaced in order to mitigate security risks.
Want to know more? Download our business capability white paper below.